10/14/15 ~~
I love Autumn here in Upstate NY.
The leaves are changing, there's a chill in the air, I get to wear cozy clothes, and…drink and eat everything pumpkin. 🙂
However, did you know Pumpkin is also good for you??  Hooray!  
Here are 6 Surprising Benefits of Pumpkin!
Weight loss
Pumpkin is rich in fiber, which helps slow digestion and keeps you feeling fuller longer.  Believe it or not – there's seven grams of fiber in a cup of canned pumpkin. 
Canned pumpkin is nearly 90 percent water, so besides the fact that it helps keep you hydrated, it has fewer than 50 calories per serving.
Sharper vision
Pumpkin's lovely orange coloring comes from it's large supply of beta-carotene, which is converted to vitamin A in the body. Vitamin A is essential for eye health.  A single cup of pumpkin contains over 200 percent of most people's recommended daily intake of vitamin A.
Better immunity 
Pumpkin has a large dose of vitamin A that helps your body fight infections and viruses.
Pumpkin also has 20 percent of the recommended amount of daily vitamin C, which could help you recover from colds faster.
Younger-looking skin
Eating pumpkin can help you look younger because the beta-carotene in pumpkin helps protect us from the sun's wrinkle-causing UV rays.
Lower cancer risk
Beta-carotene is great for your eyes and skin, but you know what else it's good for? Fighting cancer. 
Vitamins A and C are are both antioxidants, and they fight against cancer-causing free radicals.
Here's a great way to enjoy more pumpkin!  
Pumpkin Spice Latte Recipe
AUTHOR: Danielle Walker 
SERVES: 4
PREP TIME: 5 mins 
COOK TIME: 5 mins TOTAL TIME: 10 mins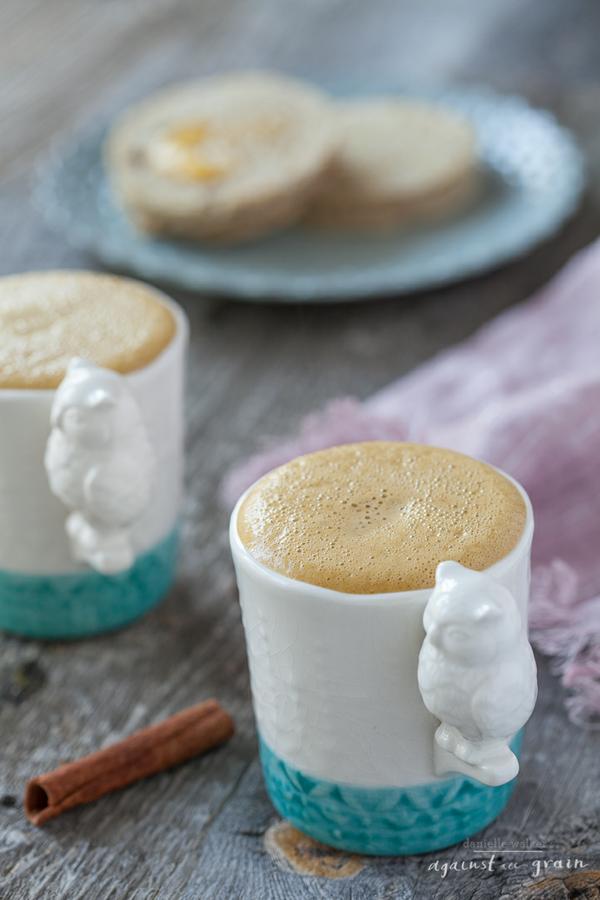 INGREDIENTS:
2 cups dark brewed coffee or espresso
3/4 cup almond milk
3/4 cup coconut milk
1/3 cup Grade B maple syrup
3 tablespoons pumpkin puree
1 teaspoon pumpkin pie spice
1/2 teaspoon vanilla extract
Note: You can also prepare it without the coffee and keep it in your refrigerator to use like a coffee creamer. Just blend it up quickly with a hand blender or blender when you add it to your coffee. This creamer works well with chai tea as well.
INSTRUCTIONS:
Combine all of the ingredients in a saucepan over medium-high heat. Simmer for 5 minutes, whisking occasionally, until heated through and slightly frothy on top.
Carefully transfer the liquid to a blender and cover the top with a towel. Blend on high for 30 seconds until foamy. Alternatively, use an immersion blender in the pot.
Divide between 4 mugs.
Enjoy!
In Health and Happiness,
Erin