11/11/15 ~~
You're going to love the recipe below – it's a guilt-free way to enjoy one of my favorite flavors of fall – APPLES!
But before we dive into the recipe…
Did you know that apples have amazing health benefits?
Here are my Top 3 Favorite Benefits!
1. Excellent Nutritional Value
A medium apple has about 4 grams of soluble fiber and are also  a good source of immune-boosting vitamin C (providing 14% of the Daily Value).
2. Weight Loss
Apples satisfy hunger for very few calories – so it's not surprising that they can be part of a healthy diet that promotes weight loss. Florida State University researchers suspect apples' antioxidants and pectin (a type of fiber) are responsible for the amazing health benefits of apples.
3. Heart Health
Last year, the Iowa Women's Health Study reported that, among the 34,000-plus women it's been tracking for nearly 20 years, apples were associated with a lower risk of death from both coronary heart disease and cardiovascular disease. Some years earlier, Finnish researchers studying dietary data collected over 28 years from over 9000 men and women found that frequent apple eaters had the lowest risk of suffering strokes compared with non-apple eaters. Experts attribute the heart-healthy benefits to antioxidant compounds found in apples, which help prevent LDL cholesterol from oxidizing and inhibit inflammation. Plus, the soluble fiber in apples has also been shown to lower cholesterol levels.
Now, here's the New Dessert Recipe I promised you.  🙂  
Paleo Apple Fritters
By Elana's Pantry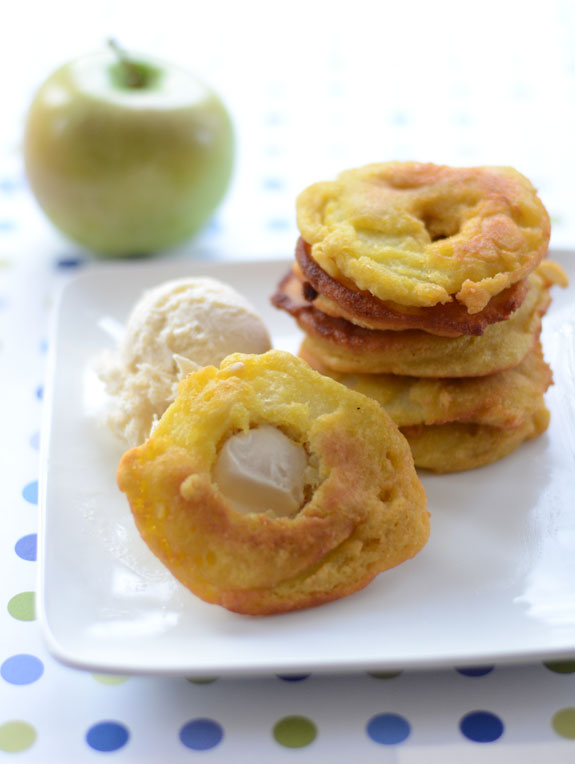 Serves: 8
Ingredients
¼ cup coconut flour
¼ cup arrowroot powder
¼ teaspoon celtic sea salt
3 large eggs, whisked
¼ cup maple syrup
1 apple, peeled, cored and sliced into ¼ inch rings
coconut oil, for frying
Instructions
In a medium bowl, combine coconut flour, arrowroot, and salt
Mix in eggs and maple syrup
Dip apple rings in batter
Heat 2 inches oil in a frying pan or pot
Fry in small batches, about 2 minutes per side
Transfer to a paper towel lined tray
Serve with whipped coconut cream
Enjoy!!
In Health and Happiness, 
Erin