10/28/15 ~~
You're going to love the Chocolate Caramel Candy recipe below – it's a guilt-free way to enjoy the candy filled Halloween Holiday – without all of the processed sugars. Kids will love them too!
But before we dive into the recipe…
How are your Workouts coming along?
Do you workout enthusiastically, feeling the burn with a smile, pushing yourself to the limit? Or would you describe your exercise time more like coasting along, breaking a respectable sweat, doing the same old thing. 
To maximize your time be sure to use the following tips to get more out of your workout.
Workout Intensity.  This is the most important part of the workouts because if you workout at the correct intensity you will experience your best transformation results.
A good rule of thumb is you should be exercising at a 9 out of 10 intensity level during your Toned in Ten workouts, and then recovering at a 3 out of 10 intensity level.
This will be different for everyone depending on your fitness level, whether you're a beginner or seasoned athlete.  
So in summary if you are working out with the correct intensity – you should be tired, sweaty, and breathing heavy at the end of the workout. If not, increase your intensity level at the next workout. This usually means getting more reps done (without sacrificing form or safety) in the allotted time for each exercise.
Follow that rule and keep your workouts to 10 minutes or less, and your body will burn fat all day long without draining your 'battery' or wearing out your body.
Focus your mental energy. It sounds simple, but often isn't.  Focus on the specific muscle group you're using during each exercise. Researchers saw a significant increase in muscle activity when people focused on what they were doing, compared to thinking about unrelated topics. 
Get a caffeine boost. Caffeine has been shown to help burn fat and increase your endurance. The most effective amount seems to be around 300mg one hour prior to working out. Of course check with your doctor first. 
Keep things fresh. Alter your routine often. This will help you to avoid plateaus and will continue to challenge your body. Try new exercises, new intensities and new environments. That's why I continue to bring you new programs so you can switch things up once in a while.  🙂
Stay nourished and hydrated. Pay attention to your food and your hydration levels.  Being dehydrated can affect your performance. 
Now here's that yummy Halloween Candy Recipe I promised you!
Paleo Chocolate Caramels 
By Danielle Walker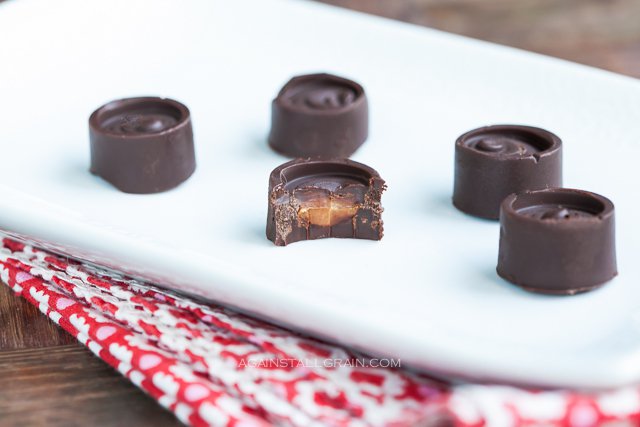 SERVES: 2 dozen
PREP TIME: 45 mins
COOK TIME: 15 mins TOTAL TIME: 60 mins
Ingredients:
½ cup honey
1½ tablespoons almond butter (smooth & with sea salt only)
3 teaspoons unsalted grassfed butter*
1 teaspoon water
½ teaspoon pure vanilla extract
1 cup dairy-free chocolate chips 
½ teaspoon coconut oil
*use raw cacao butter for dairy free
Instructions:
Bring the honey to low boil and simmer for 10 minutes, swirling the pan occasionally until the honey is deep amber color.
Remove from the heat and add the almond butter, unsalted butter, vanilla, and water. Let it cool for 10 minutes in the pan.
Pour caramel out onto a tray lined with parchment paper and cool to room temperature, for about 30 minutes and the caramel is pliable.
Gently melt the chocolate and coconut oil in a bowl set over boiling water, or a double boiler.
Pour the melted chocolate into candy molds, filling half way full.
Pinch off small pieces of caramel and roll into a ball between your hands. Place the caramel at the center of the chocolate. Continue filling the molds to the top with chocolate.
Refrigerate to harden for 1 hour.
So good!
In Health and Happiness,
Erin
​