5/13/15-
I'm writing this on my way home from an amazing trip to San Diego where I met with my mentors, coaches, and other great health and fitness leaders.  It was an intense few days of learning, gaining accountability, and fueling my professional growth.  A very fun and inspiring trip!
A lot of you have recently been asking about what to do to continue your fitness growth once you reach the end of the 8 week program.  I have some very exciting news in response to the many questions I have been asked like:
1.  What do I do now that I've finished the 8 wks?
2.  How do I progress the exercise now that I'm stronger?
3.  Should I start using weights?
4.  Will using weights make me bulky?
So what's the exiting news? 
For those of you ready to progress your exercises to the next level – I am excited to announce that I'll be offering an online coaching program to you in the next few weeks to answer all of those questions and guide you as your progress changes.
You can receive one on one coaching all while being part of the online private Toned In Ten community coaching program where you'll receive expert guidance to assure fitness growth, motivation, accountability, and most importantly – results. Just like I experienced this weekend – You'll be surrounded by people that have the same goals – those of continuing to learn, and become healthier and happier.
Please be aware that enrollment is limited.  Over the next few weeks I will be sending out more information and applications to apply to this exclusive program. Because I'll be coaching you exclusively – I need to keep the group to around 20 people to assure expert guidance.  That's why I'll be asking for applications and screen carefully to assure everyone is a good fit and can benefit from this program.
​In the meantime, as we are getting ready to officially launch the coaching program – I will be offering other resources for those of you ready to take it to the next level to assure your fitness progress.
I am so excited and inspired that you continue to stick with Toned in Ten – your results will only get better and better.    I'm very happy for you and would love to hear about your results and even before and after photos!
If online coaching and the other resources offered over the next few weeks are not a good fit for you, simply repeat the 8 week program and increase the reps by 3- 5 reps of each exercise or add 3-5 lb weights for more challenge.  Simple and easy progress!  🙂
For those of you ready for more now – here's a fun new workout for you to give a try.
10-Minute Max Fat Burning Circuit
– Do not rest between exercises…unless you really need a 15-second break.
– Rest 1-minute at the end of the circuit.
– Repeat the circuit 2 times for a total of 10 minutes of exercise.
1) Forward punch (alternating sides) – 60 seconds
2) Prisoner Squats – 30 seconds
3) Mountain Climbers (alternating sides) – 60 seconds
4) Lunges (alternating sides) – 60 seconds
5) Pushups – 30 seconds
6) Plank – 30 seconds
If you haven't started the Toned in Ten program yet – take a look here for more great workout and nutrition advice.
www.tonedintenfitness.com
Stay tuned for more information on my online coaching program as we get closer to the official launch!  
Products That I Love
​This weeks product that I love is a favorite beauty product of mine.  We all know washing your hair everyday can dry it out and cause damage and split ends.  So on those days that you need to save time or to prevent hair damage – I absolutely love Klorane Dry Shampoo.
In addition to removing oil, it also gives your hair amazing volume.  Be sure to use sparingly or you will end up looking like you have grey hair!  When used correctly you will have refreshed hair with beautiful volume and your hair will thank you for skipping a day of washing.  🙂
Here is a link to their site if you're interested in learning more.
http://www.kloraneusa.com/dry-shampoo
If you would like to see past products that I love be sure to check out my YouTube Channel 
here
.
Recipe of the Week
Fennel, Celery, and Green Apple Slaw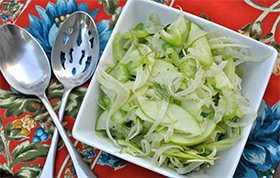 Here's a light and refreshing salad that's filled with healthy fiber. Fresh tarragon, fennel and lemon juice lend vibrant flavors, eliminating the need for fattening, store bought salad dressing. Serve alongside a portion of lean protein for the perfect, protein and produce approved meal. Perfect for a summer evening – so yummy!
Servings: 2
Here's what you need:
2 Tablespoons olive oil
1 Tablespoon Apple Cider Vinegar
1 Tablespoon fresh tarragon, minced
1 teaspoon lemon juice
zest from 1 lemon
2 celery sticks plus the leaves
1 fennel bulb, plus the fronds
1 green apple
dash of salt and pepper
In a small bowl combine the oil, vinegar, tarragon, lemon juice and zest. Set aside.
Using a mandoline slicer on the thinnest setting, thinly slice the celery, fennel bulb and green apple. Place in a medium bowl. Chop the celery leaves and fennel fronds and add to the bowl.
Toss the salad with the dressing and season with salt and pepper. Enjoy!
Nutritional Analysis: One serving equals: 219 calories, 14g fat, 192mg sodium, 23g carbohydrate, 7g fiber, and 3g protein
Enjoy!