9/16/15 ~~
Surprisingly, you can defy aging with Chocolate, but it has to be the right type of Chocolate.
Unfortunately, the vast majority of chocolate is milk chocolate that's loaded with mostly sugar as opposed to the healthy fats, high fiber, high antioxidant, and low-sugar content that you can find in dark chocolate.
Most chocolate is highly processed, but organic, raw dark chocolate has amazing health benefits and is one of my go to superfoods for anti-aging and weight maintenance. 
When cacao is processed into the chocolate that we commonly see today, it loses much of its health benefits, due to the high heat used in roasting and the chemicals added during processing, along with a huge amount of added sugar. Raw, unprocessed cacao is filled with essential vitamins and minerals, as well as very potent antioxidants.
Organic, raw dark chocolate contains minerals including magnesium, zinc, iron, sulfur, copper, potassium, manganese and calcium. It also contains vitamins B1, B2, B3, B5, B8 and E, and is a good source of protein and fiber.
The healthy fats found in raw cacao also support well-being. They include oleic acid, a monounsaturated fat that is also found in olive oil and avocados, plus healthy saturated fats, which the body needs to properly function and repair itself.
Why is cacao so good for us, check out the amazing benefits below.
    Cacao beans are rich in polyphenols called flavonoids, which have been found to have antioxidant properties. They actually contain 8 times the number of antioxidants found in strawberries. Antioxidants fight inflammation and free radical damage that damage your body, organs and skin. You will look and feel younger and slow your physiological aging.
    Flavonoids have also been linked to improving circulation, lowering blood pressure, and reducing arterial wall plaque. 
    Theobromine, an alkaloid found in cacao, has been linked to stimulating the central nervous system and providing the body with improved energy.
Cacao also contains phenylethylamine (PEA), which affects the brain the same way as when you are falling in love.
Cacao has also been linked to increasing the availability of serotonin, which can elevate your mood and even lessen depression. 
    A study published in the British Medical Journal observed that a daily dose (with a polyphenol content equal to 100 grams) of dark chocolate can reduce the risk of heart attack and stroke in people with metabolic syndrome. 
So not only does Dark Chocolate fight aging with it's powerful antioxidants, it can also fight heart disease and depression.  Not to mention, it's delicious and the perfect way to enjoy something sweet without causing inflammation to your body like most sweets.  
So go ahead and enjoy some dark chocolate! Just be sure to always buy 70% or higher cacao content in order to assure low amounts of sugar and high antioxidant potency.
I will also use pure dark chocolate in the form of cacao nibs in my smoothies and over protein pancakes or fruit.  Delicious and there is no sugar added, with all of the amazing health benefits mentioned above. 
Here is one of my favorite Dark Chocolate recipes!
Recipe Corner
DARK CHOCOLATE ALMOND CLUSTERS
Creamy, melt-in-your mouth dark chocolate and almond clusters made in the microwave with just 3 simple ingredients!
Author:
Le Creme de La Crumb – I revised recipe to use Dark Chocolate.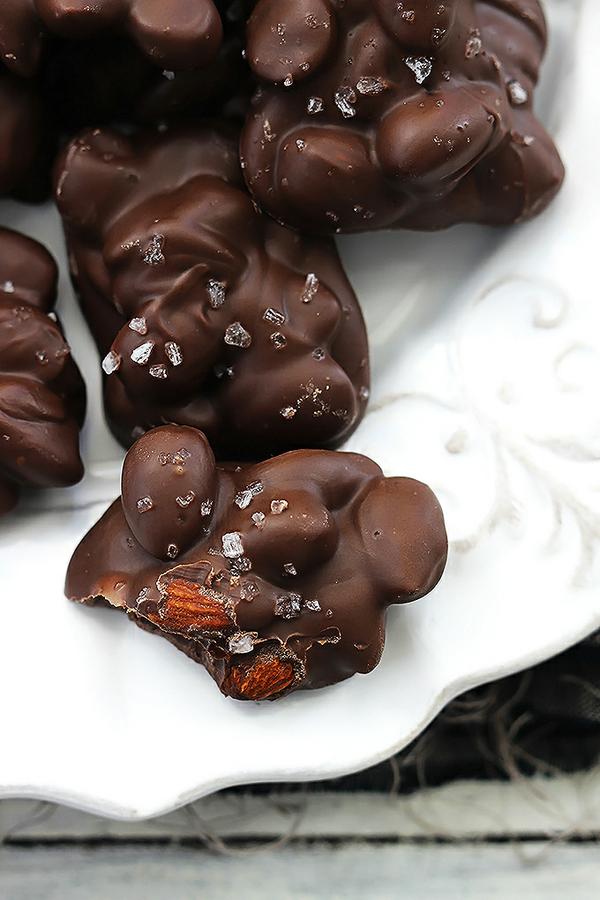 INGREDIENTS
12 ounces 70% or higher dark chocolate, roughly chopped
2 cups whole raw almonds
1-2 teaspoons coarse sea salt*
INSTRUCTIONS
Line a baking sheet with foil or parchment paper.
In a heat safe bowl, microwave dark chocolate on high for 2 minutes. Take it out, give it a stir, then return to microwave for 30 seconds at a time – stir after each – until creamy.
Add almonds to the bowl of melted chocolate. Use a tablespoon to scoop out almonds and chocolate and pour into a mound on prepared baking sheet. (The chocolate will spread out a little) Repeat process with remaining almonds and chocolate. Sprinkle with coarse sea salt.
Allow clusters to cool completely. If you have room in the fridge or freezer, you can stick them in there for a few minutes and they'll harden up in no time. Store at room temperature or chilled in an airtight container.
NOTES
*Sea salt is optional but highly recommended!
Enjoy.
In Health and Happiness,
Erin
​